Make Room For Feb 7th
What would be your topic of choice at a dinner party of the world's most interesting and curious people?
The best dinner parties I've ever been a part of had a few things in common:
A thoughtful host who curated those in attendance.
A group of curious and well-informed attendees
A setting that held space for real conversations and not just soundbites.
That's what I hope this Make Room newsletter begins to feel like when you see it in your inbox: an invitation to a fantastic dinner party for your mind - filled with curiosity and ideas for your consideration. Each entry below is something I'd be excited to discuss in greater detail and I don't want to wait for the next IRL dinner party to do so.
I am thrilled with the number and quality of people that have subscribed (that's you if you're reading this!) and the new friends they've recently introduced me to (the highest compliment in my opinion.)
With that, please enjoy this menu of ideas for your consideration.
Movie I'm Still Thinking About
Descendant (Netflix)
The incredible Ginny Clarke continuously challenges me to explore topics outside my default information stream and this documentary is a great example. The story follows the mystery surrounding the last slave ship to arrive in Alabama from Africa and of the descendants of those slaves who all still live in the nearby towns where that ship apparently disappeared once it had completed its shameful objective. Part mystery, part social commentary, part education - this is definitely worth your time to watch.
Quote I'm Pondering
"Buy your own steak, it is cheaper." - Jerry Weintraub.
If someone is offering you a steak dinner, the cost of their ask is surely higher than the cost of that dinner. There is no such thing as an event with "free drinks." This and other hilarious stories of old Hollywood are told in Jerry's incredible book, "When I Stop Talking, You'll Know I'm Dead."
Book I'm Diving Into
For over a year, I've been studying the supply chain connected to the mining, refining, and marketplace for rare earth elements and the critical minerals that are necessary for the developing world to complete the Green Transition. It is an incredibly archaic and unrefined logistics system when considering the trillions of dollars of electronic vehicles, smartphones, screens, radar systems, and even F-35 Stealth Bombers that rely on these elements and minerals. Cobalt Red by Sidharth Kara is a damning description of just how awful the beginning of that supply chain is and how all of the multiple-billion dollar companies at the top of that supply chain are unconvincingly pretending to be blameless. It takes 40,000 lbs of mined materials each year for every American to have their modern-day lifestyle. But in this book, we are confronted by exactly who is doing that mining and the human and climate atrocities that are committed in the process. Not a book for the faint of heart.
Social Post I'm Pumped About
Over the past year, I completed over 450 coaching sessions with clients. The challenges they're each tackling are as diverse as their companies and teams. My professional ADD has found its match. At the end of the year, my team conducted an anonymous survey and my clients coached me right back with their thoughtful comments and feedback. Yesterday, I shared some of their kind words and it has been really fulfilling to see the response.
Team Member I Wish I Could Hire
I just found out one of my favorite creative minds is pursuing their next endeavor. This person's resume reads like a "favorite brands of the past ten years" and I wish I was at a company in need of their next CMO so I could snatch them up for myself. If you, or a fast-growing company in your network, is in need of someone to take their creative marketing and impact culture to the next level in a part-time or full-time capacity, please let me know and I'll connect the dots.    
Company I Am Proud Of
OCN.AI is building the first ever "Fitbit for the ocean." Over the past 18 months, with a very small family and friends' round of investment, OCN has built the first-ever independent database of ocean health information with inputs from huge partners like NASA. OCN has built a smart-buoy called Seamore and established a partnership with the British Virgin Islands to bring this technology to all sectors of that country's dynamic oceans. I am proud to have served as COO since day one and to be a part of bringing such an important technology to life.  
You can see more at OCN.AI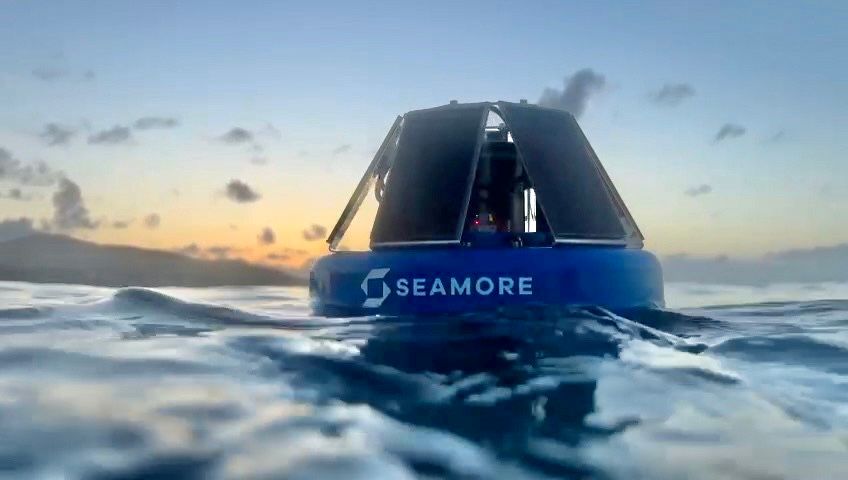 ---
So that's what's going on in my world and now I'm curious, what are you most excited about this week? What is the idea that won't leave you alone? What would be your topic of choice at a dinner party of the world's most interesting and curious people?
Have an incredible rest of the week and remember to Make Room For Many.
Andy
---
If you were forwarded this email and aren't already subscribed to Make Room, we'd love to have you join our curious community. You see those options and explore which one is right for you HERE