Make Room for April
Community is the secret sauce to unlocking the power of Curiosity and Accountability.
Welcome to 16 new subscribers who have joined the Make Room For Many community since last month. Thank you for joining the 4,306 curious subscribers and 20 Roomies looking for new and interesting ways to explore, invest in, and relate to the world around them.
I promise you, I would not be writing this email if it wasn't for the theme of this past month. We've been exploring Accountability and I could only laugh that this was our focus.
Since my birthday celebration(s) in the middle of February, life has gotten a little wild. First, there was the continued growth in my coaching business as I added new one-on-one clients to my roster. Then I led offsites in NYC, SF, and LA for corporate leadership teams from Anheuser-Busch, Informatica, and ProducePay respectively. In between two of those events, I flew to Ireland and surprised my sister for my nephew/Godson's baptism and got to meet my niece for the first time! And that has also been amidst another amazing project I'm involved with more commonly known as planning a wedding!
In the middle of all that, Accountability was the theme of our discussion and exploration. All I can say is that I learn a lot.
"Wisdom stems from personal accountability. We all make mistakes; own them... learn from them. Don't throw away the lesson by blaming others." ― Steve Maraboli
There are now 20 of y'all that have joined the membership part of this experiment and it is wild to see the diversity of backgrounds, ages, genders, and careers of these 20 people. It is almost as if there were some kind of quota system that needed to be filled. But with diversity comes unique perspectives and approaches to every undertaking. Some of the members have been overly active in the comments and conversations, others a little more reserved.
But it is the accountability of knowing that I've promised a weekly email, a monthly meet-up, and to lead a true deep dive on the topic of the month that has kept me curious as we explored Accountability. Some highlights:
One thing that was clear in both my experience this past month and in the feedback and conversations I had with the Roomies is this - Accountability is best when you are in Community. So that is going to be the topic of discussion each week for the month ahead: how will Community continue to shape the way we look at our world and how we collectively create a future we're proud of.
If you'd like to join us, we'd love to have you.
In addition to all that we found together, here are a few things I discovered on my own that I thought you might find interesting as well.
Best Book I Read This Month - Big Magic by Elizabeth Gilbert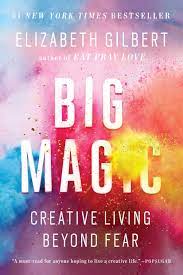 No matter where you are in your career, this book is a wonderful quick read that will unlock a new perspective on creativity as a way of life. More than a book, it feels like a conversation with the author about the ups and the downs of that lifestyle. But that transparency makes the truths found in her words that much more believable and inspiring. I was given this book on my birthday by Caroline Baniewicz, who is making her own Big Magic in NYC.
Best Video I Watched This Month
Trevor Moawad was one of the most influential sports psychologists in the world and Quarterback Russell Wilson's best friend. Sadly he passed away last fall from cancer at 48 years old.  He was famous for teaching Neutral Thinking - that no matter how high the highs or how low the lows, keep your mind neutral.  Shortly after his passing, Russell Wilson was asked about Trevor and this 8-minute video is one of the best tributes to a friend I've ever seen.
Best Podcast I Heard This Month
My favorite podcast is Hidden Forces and my favorite geopolitical strategist is Peter Zeihan. Therefore, this episode was all kinds of epic. The wide-ranging discussion was incredibly helpful in shaping my understanding of exactly what all is at stake right now and how the chess pieces may be moving in the next 6-8 months. It would be tough to think of a person who wouldn't benefit from this conversation.
Biggest Tweet This Month
Biggest Opportunity I Am Considering This Month
6 weeks ago on Necker Island at the ULTRAMARINE Ocean Action Summit, I had the chance to spend a week with some of the most passionate and curious entrepreneurs, investors, and researchers. They challenged my understanding of what was possible in "Climate Tech" and showed me outlines of a sustainable business model that creates for-profit motivation to do work previously left to non-profits and foundations. Mobilizing innovation with economic incentives AND giving our oceans a chance to restore themselves?  That is a big opportunity.
If you have any "best of the month" items to share, I'd love to hear from you.
---
Until next month, Make Room For Many more adventures, lessons, and memories in April!
Andy